It's June. It's Pride month. And I am going on a self induced torture which I am calling Reading Marathon Mania where I am going to read as many LGBTQIA+ related books as I could. I am not following any list or recommendations, I am going to read all and any LGBTQIA+ book I come across in this duration. Like a Maniac, yes.
Hey and I am back again with a very queer book for this gay, beautiful month.
I am talking about a book which got a movie adaption last year and since then it has been the talk of the Queer town and is a little bit too hyped for my liking. I am talking about Simon vs The Homo sapiens Agenda by Becky Albertalli. Yes, the one on which the movie, Love, Simon is based on.
So, strap up you metaphorical seat belts (I hope you are not reading this while you are driving) and let's dive straight (kinda) into the reviewing of Simon vs The Homo sapiens Agenda.
My #RMM Rating: 4/5
(Just read it! It's adorable)
This book should probably come with a warning for having too many American culture and popular/ nerd culture references. Not that I mind but in few years this story is only going to be relevant for us late Millennials/ early Gen-Z Young Adults.
The story is about this sixteen year-old guy from Georgia who is gay, not that anyone knows. Anyone besides Blue. Blue is this other boy who is gay too, not that anyone knows (besides Simon). Blue and Simon (alias Jacques) are in the same year, in the same school and they don't know each other's irl identities but are practically best friends as they keep exchanging emails after an interaction on Tumblr. It's kinda cute.
The story is written in first person from Simon's POV and the chapters alternate with the email exchanges between Blue and Jacques. At first at was a bit apprehensive about reading this novel. I saw this book years ago on my Amazon recommendations and since then it has been sitting in my Wishlist – 'Books To Buy'. When the movie came out last year with all the hype and with Nick Robinson acting like a cocky, trying-to-be-Awkward-but-not-really gay high-schooler,  I was determined to steer clear from this book/movie.
I still am not sold on the idea of watching the movie because I watched the trailer again yesterday, after reading the book and first of all, they totally give away who Blue is in the freaking trailer! and secondly, I didn't like what they did with Simon. Maybe I am being too cynical about the changes in the movie but for fuck's sake how hard is it to get glasses and dirt blonde hair for the literal protagonist? Or were the glasses too 'not cool' for you? In which case I am offended as someone who is attracted to people in glasses and as someone who has been wearing glasses for past 14 years in her 22 years of being alive.
Anywho, let's talk book. The writing is how I expect a sixteen year old to write. Which is perfect seeing that the book is written as someone who is sixteen. As I mentioned before it was a little heavy on pop culture and if you have read my previous reviews for the Reading Marathon Mania for this pride month, you'll realize I have read five book, back-to-back, which were based of ancient Greek (with a dash on French). So coming back to real time American teenage life was a bit of a cultural shock for me.
The characters, all of them, are adorable. I was so invested in the email exchange and trying to figure out who Blue was that I pretty much ended up falling in love with Blue (and Simon, of course). At first I hated it because I am jealous person and I was so jealous of Simon because I miss high school, I miss the homework and tests and the unpredictable yet obvious life of a high school student. I was jealous because why can't I have a Blue or Jacques or someone I can anonymously talk to? Who is going through pretty much the same things I am going through and who is as cool (as geek) as Simon or Blue. I must say I was not at all disappointed knowing who Blue actually was. I had pretty much guessed who he would be until Simon took a very wrong turn with his assumptions and messed up my decision. Just trying to figure out who Blue was was actually the best part of the journey.
Also, Simon has dope taste in music. I am literally listening to Elliott Smith right now as I draft this blog. The references to Harry Potter (and Drarry slash fiction) and Manga/Anime got my fangirl heart quivering. So, this book was treat in that department.
What got me motivated enough to read this book on a lazy summer afternoon was the fact that I couldn't find anything decent to read and I am really interested in reading Leah off the Beat which is kinda a sequel to Simon vs The Homo Sapiens Agenda but it's about Leah, Simon's bestfriend, who is kinda bisexual. Even though I genuinely liked the book, I am kinda done with gay romance. At least for a while, especially for this month.
What about the Queer Factor? Well, we have enough Gay representation in almost all media platforms (besides sports, where there is a serious, gaping lack of Rainbow). From movies, to books, to reality show, the most popular works in LGBTQIA+ related media has to do with gay men. I don't have to mention the Asian media overflowing with BL and Yaoi which includes terribly unhealthy relationships for most part or western media where LGBTQIA+ representation is annoyingly forced and restricted to White Gay Men who are either predators or perfect best-friend material for the girls or both.
So, I was actively trying to keep away from gay romance because I am getting peeved by the serious lack of actual diversity and I want at least my blog to represent all the colours of the Pride.
Where are my bisexual brethren? Where are my Ace, Aro, Non-brinary folk? All I see is Gay men with compromised masculinity, hypersexualised lesbians and 'All girls are bisexual'. Listen up popular media! You are doing a shitty job at LGBTQIA+ representation and the part of community you are bothering to represent is painfully stereotypical and utterly boring.
So yes, I am going to literally stop myself from reading anymore gay romantic novels for this month, no matter how interesting the plot is, because I am done. (i.e after reading What if it's Us which I am already half way through)
Also, this book was particular hard on me because it had to do with the Coming Out Thing. Which, if you don't know, is kinda a big deal for many.
"And this gay thing. It feels so big. It's almost insurmountable. I don't know how to tell them something like this and still come out of it feeling like Simon."

~ Becky Albertalli, Simon vs. the Homo Sapiens Agenda
And literally, on 13th of this month Daniel Howell, you know the popular and pretty amazing YouTube guy came out as Gay/Queer. Which was a pleasant shock to me because I was (kinda still am) a huge Dan and Phil trash.
Just yesterday (15th June) the cute Asian guy, Eugene Lee Yang of the Try Guys (BuzzFeed) came out as gay. (in the most splendid manner I must add)
Also yesterday, I read Simon vs The Homo Sapiens Agenda in less than 10 hours which is all about coming out.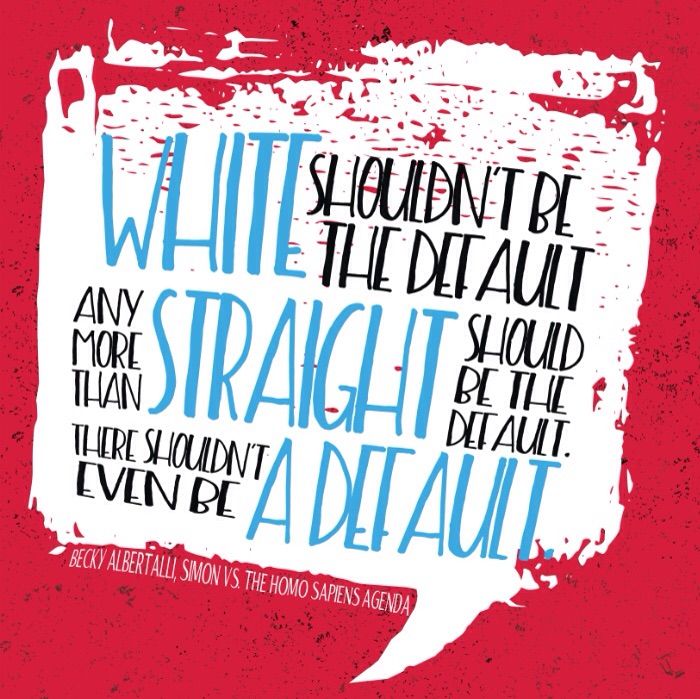 I swear to god, universe is playing with me. If one more person comes out I am gonna break and announce to the people of my world that I am queer in more than one way. And that would not go down too well knowing the feelings my family harbours towards us colourful people. #CriesInRainbow
Literally, Universe is testing my patience.
"It is definitely annoying that straight (and white, for that matter) is the default, and that the only people who have to think about their identity are the ones who don't fit that mold. Straight people really should have to come out, and the more awkward it is, the better. Awkwardness should be a requirement."
~ Becky Albertalli, Simon vs. the Homo Sapiens Agenda
Right, we have swayed far enough from the topic! The question is, should you read this book?
Sure why not! If you are heavy on Tumblr and Fandom and cute, romantic and honestly hilarious at times gay story, go for it.
This book is so light on heart and emotions and is a need after reading all the depressing, sad Homoromantic books. (I am looking at you The Song of Achilles and Call me by your name.)
Not to mention you can probably brag about having read a pretty popular book which has good fan base and an actually good movie adaptation. (Probably, I haven't watched the movie.)
All I know is that when I finally read the ending at 0355 hrs this morning, it was well written (unlike Captive Prince trilogy) and it left a satisfied smile on my face.
P.S.: I found there is this collection of emails exchanged between Jacques and Blue (Creekwood #1.5). So I am gonna go and dive back into Simon vs The Homo sapiens Agenda
---
P.S.: If you have any good book that you could recommend to me for the Reading Marathon Mania or in general that would be splendid.
Also, if you are wondering what sort of crack-head announces on their blog that they are Queer when they don't want to come out in real life? Yup, that's me. I am pretty sure my parents are not going to read my posts (because trust me I have tried) and I am just sick of living this duel life so if someone from my real life happens to stumble upon this graveyard of a blog (like my cousin once did and yes I got outed by my post) Well, good luck to me and hello there. How are you here? Yes, I am Queer.
XD
I am hopeless. Until next time.